Pest Control
Residential Pest Control

Bio-Tech has become a household name for the pest industry.
Bio-Tech is quite different from other pest control companies. While providing pest control service, we keep in mind the environment in which we and our children live and breathe.
Bio-Tech provides solutions to your pest problems using low toxic, environmentally friendly EPA approved pesticides.
Bio-Tech philosophy is to offer only what a customer needs and get it done at the best possible cost to our customer.
Bio-Tech customizes your service and arranges service visits at your convenience.
Bio-Tech services are guaranteed. Any additional re-treatment is free of charge.
Bio-Tech has maintained a high rating with the Better Business Counsel.
Bio-Tech offers free estimates with no obligation. Phone: 863-858-8995.
Pest Control Service Plans
All our pest control service plans are customized with service guarantees and unlimited additional calls, if needed.
Bi-monthly service
Quarterly service
Once annual service
---
Commercial and Industrial Pest Control

Bio-Tech provides free inspection, consultation and insect identification services.
A pest free environment in food handling and manufacturing establishments is of utmost importance.
Bio-Tech's approach to integrated pest management (IPM) is to do thorough inspections, monitoring site awareness and communication with each department. Once the pest is identified, the first step for treatment is to use non-chemical methods (sanitation, exclusion, glue boards, traps, etc.) When necessary, we will apply only EPA approved materials, which will be low impact to the environment and effective for your facility.
Programs can be designed to meet AIB, FDA, or USDA specification.
Bio-Tech has the know-how, experience and tools to customize year round pest control service. Our technicians have extensive IPM classroom and field training.
Bio-Tech has solved pest control problems for establishments that have been cited by the Board of Health.
Bio-Tech has its own quality assurance program, which monitors and audits the quality of service we provide.
Bio-Tech customers are regularly provided with service, sanitation and monitoring reports.
Bio-Tech communicates with its customers and recommends and updates pest control services.
Bio-Tech is presently serving all sizes of commercial establishments such as industrial and food handling plants, restaurants, offices, museums, nursing/retirement homes, shopping malls, etc.
Bio-Tech has maintained a high rating with the Better Business Council.
24 - hour response to emergency calls is our company policy.
Call Bio-Tech for free inspection, consultation and a free estimate with no obligation. Phone: 863-858-8995
IPM - Pest Control Of The New Millennium
Integrated pest management (IPM) is socially acceptable, environmentally responsible and economically practical method of controlling pest populations. IPM incorporates a variety of cultural, biological and chemical methods to efficiently manage pest populations while lowering dependence on chemical means of control. IPM, through its multi-tactical approach:
1) lessens the potential for pesticide resistance
2) limits human exposure to pesticides and
3) lowers the environmental impact of pest management.
---
Termite Control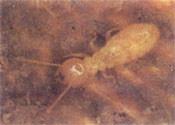 Your Real Enemy
A heavy infestation could mean up to 250,000 of these white worker termites working 24 hours a day searching for and eating wood.
Termite Highways
Subterranean termites usually nest in the ground and build tunnels into your home. They need earth moisture every 24 hours and the wood in your home. Bio-Tech Chemical Treatment stops this cycle.
The Reproducers
The kings and queens are the swarmers. They don't do the actual damage, their children do. A queen may live for thirty years, producing dozens, possibly hundreds of eggs each day.
Termites are the silent invaders, which damage your property without you knowing it. By the time you discover termites it is already too late. The costly structural damage has already been done.
The annual cost of termite damage to buildings in the United States is greater than that of fires, storms and floods combined.
Most of the building contractors do not provide pre-treatment termite control for new construction unless required by the architect.
The primary termite swarming season starts early in the spring, with secondary swarming season in the early fall. The presence of swarmers on your property indicates active termite colonies.
Do not confuse termites with ants. You need to call a professional for identification soon to stop the continuation of damage by termites.
There is no such thing as U-do-it termite control because all of the U-do-it yourself products have a warning on their label with the phrase "Do not use if you have active termites." It is very probable that you will end up having to call a licensed professional because you do not have proper tools, equipment or training.
Once your property is treated for termites, Bio-Tech offers a lifetime service guarantee, which is transferable to the new owner.
Bio-Tech provides a free inspection and consultation service. If needed, Bio-Tech provides free estimates for termite treatment with no obligation.
Phone: 863-858-8995.
Termite Control Service Plans
Conventional liquid treatment.
Limited spot treatment for commercial buildings.
Bio-Tech has maintained a high rating with the Better Business Bureau, and is a recipient of Consumers' Choice Award For Business Excellence.
PREVENTION
There are several things you can do as a home owner to help prevent or avoid termite infestations including:
Stack all firewood, lumber or other wooden items, several feet away from your building.
Keep all wood supports of porches, patios, decks, or separate buildings more than one foot from contact with your home's foundation; and use only pressure-treated wood for all construction which contacts the ground. Even treated wood has a limited protection period.
Move all wood containing mulch (even cedar or redwood) and decorative wood chips at least one foot away from your foundation. Sand and stones can be just as attractive and they discourage pest (including termite) harborage next to your building.
Repair any leaking water lines or fixtures, especially any that wet any wooden part(s) of your house. Repair any eaves, down spouts, gables, or shingles which allow wooden parts of your house to get wet even occasionally.
Monitor moisture levels and take steps to reduce moisture build-up in any crawl spaces.
Relocate any frequently watered garden or flower bed as far away from your home's perimeter as you can.